If you've ever been to Southeast Asia, you know that motorcycles (or scooters) are the transport of choice for many locals. In dense cities such as Hanoi, the narrow streets are usually clogged with them, and there's always the low hum of engines in the air. The 2-wheelers are perfect for zipping around from one spot to the next, but they're also surprisingly useful for transporting cargo.
Intrigued by the scooter culture in Hanoi, London-based photographer Jon Enoch captures the vast and unusual motorbike loads across the Vietnamese city. "When I...
From all holidays in the sun, Rio de Janeiro in Brazil might be the one with the most activities to partake in. With its vibrant nightlife, iconic attractions and one of the seven wonders of the world, the city, which was once the capital of Brazil, has a lot to offer travelers from all different tastes.
1) Museu do Amanhã (Museum of Tomorrow)
Designed by the neo-futuristic architect Santiago Calatrava, the applied science museum aims to create an open dialogue about the next 50 years. It takes in consideration all of man's alteration of the world in its primary state while emphasizing ethical values and shining light on issues that need our urgent attention. Aside from the expositions available, the museum also host...
Been invited to a wedding? Have no idea what to wear? Then we are here to help! We have found 21 gorgeous wedding guest dresses for summer. There is a dress for everyone – from romantic floral prints to bold and bright colors and more. No matter if the wedding is on a beach or at a glam venue, we have a dress for you. Take a look to get some inspiration!
1. Bold Pink Dress Idea
A must-have color for the summer is pink. Not only is pink stylish, but it is also one of the colors of romance which makes it perfect for a summer wedding! With that said, our first dress idea for wedding guests is this vibrant pink fitted dress. As you can see it looks beautiful and is perfect for a special event. You can also choose a different shade of pink or a different style of dress.
Many years ago, amongst beauty devotees, organic and natural beauty products were admired, but generally paired with hushed comments about their efficacy. We're happy to report that in 2018, this is far from the case. Clean beauty brands have come leaps and bounds, and the product offerings are better than ever. Here are our top clean beauty swaps, many of which easily outperform their chemically-laden counterparts.
Oil Cleanser: Fun fact – One Love Organics Vitamin B Cleansing Oil ($42) was one of the OG clean beauty swaps we made. It works so well and smells so delicious, you'll never want to be without it either.
Deep Cleanser: Allies of Skin Fresh State Purifying Clea...
Bright Side has your back and has listed the things you shouldn't do on your journey abroad. And we wish you happy and safe travels.
1. Tipping in Japan
How to start working out when you are new to fitness. A complete beginner's guide.
Do you have a fitness goal in mind?
Do you want to lose 5 lbs or a certain amount of weight?
Perhaps you'll like to have more energy and feel less tired throughout the day.
Maybe you want to reduce your stress or become more productive at work?
That's great —whatever your health goal is, exercise can bring a transformational change in your health, body, mind, and the overall life.
Easy to say, hard to do. I know.
Working out is hard, sometimes not fun, and even painful in the beginning.
But that's only if you're going about it the wrong way.
In fact, working out is quite the opposite. It should be fun, enjoyable and very beneficial to every area of your health.
The key is finding and doing the exercise that you enjoy. As you&...
In the first part were shared the first, last and most popular paintings of Salvador Dali, Pablo Picasso, Vincent Van Gogh, Claude Monet and Edouard Manet.
In the second part you can enjoy the art works of five more genius and worldwide known artists and learn some interesting facts about their turbulent lives.
6. Frida Kahlo, Mexican artist (1907-1954)
Kahlo, made her first painting, named "Self Portrait in a Velvet Dress," in 1926, when s...
Whether you've recently moved into a new home, you're remodeling your current home, or you're simply looking for a refreshed home decor design, a custom gallery wall will bring your living space new life. Using your own photography or favorite designs and images, you can easily DIY a gallery design that perfectly fits your home. Not sure how to get started? We'll help you plan, create, and hang your canvas prints from start to finish. Jump to a section below to begin designing a gallery wall with canvas prints.
Planning Your Canvas Print Gallery Wall
Consider photo spacing, wall background, canvas sizes, and home decor style. What's the theme? Are you looking for black and white designs or text-based images?
Home Decor
Deep Frida Kahlo Quotes on Everything
"Feet, what do I need you for when I have wings to fly?" – Frida Kahlo
"Pain, pleasure, and death are no more than a process for existence. The revolutionary struggle in this process is a doorway open to intelligence."
– Frida Kahlo
"Only one mountain can know the core of another mountain." – Frida Kahlo
"Nothing is absolute. Everything changes, everything moves, everything revolves, ever...
↓ 24 – Slim Fit Suit
Slim fit suits make you look like a young, crisp gentleman. These are funeral appropriate, as long as they are kept simple and in shades like black, grey, navy blue etc.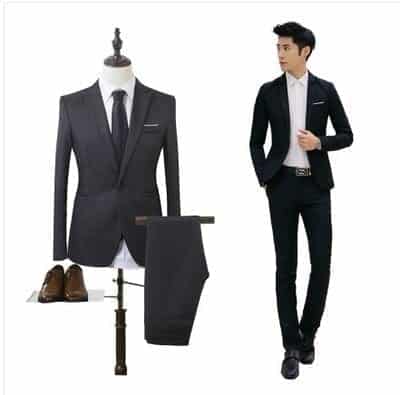 Via
↓ 23 – Grey Suit
A grey suit can be a replacement for your conventional black one. Grey is a muted tone, not driving everyone's attention towards you. Pair it with a white or a light-toned shirt.
Men's fashion
[1] 2 3 4 Next>