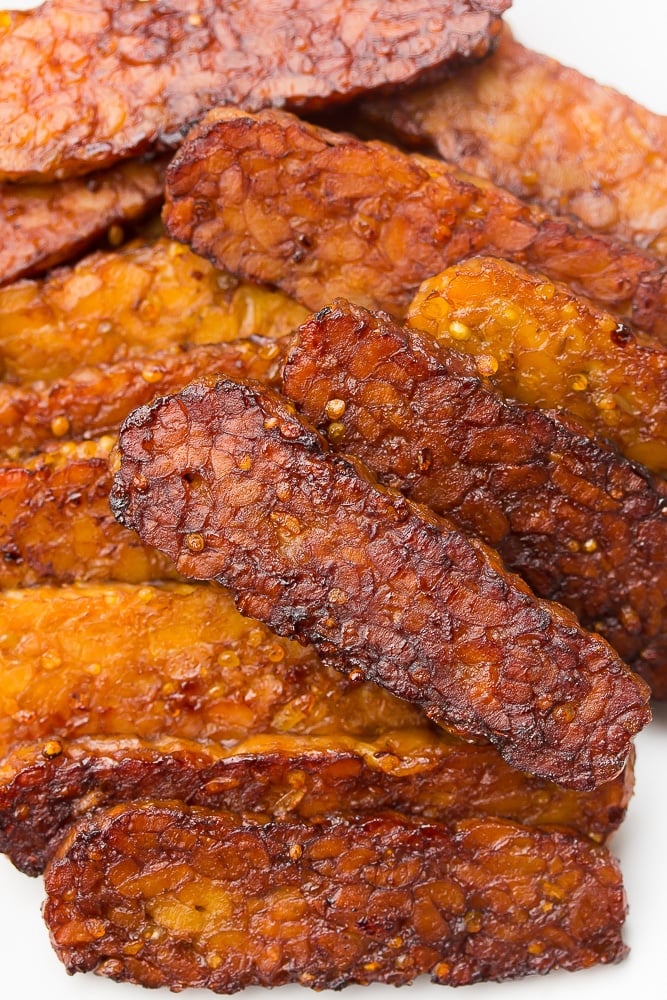 My favorite vegetarian bacon – Tempeh Bacon! Protein packed, ultra flavorful and easy to make. This vegan bacon is perfect for BLT sandwiches or brunch!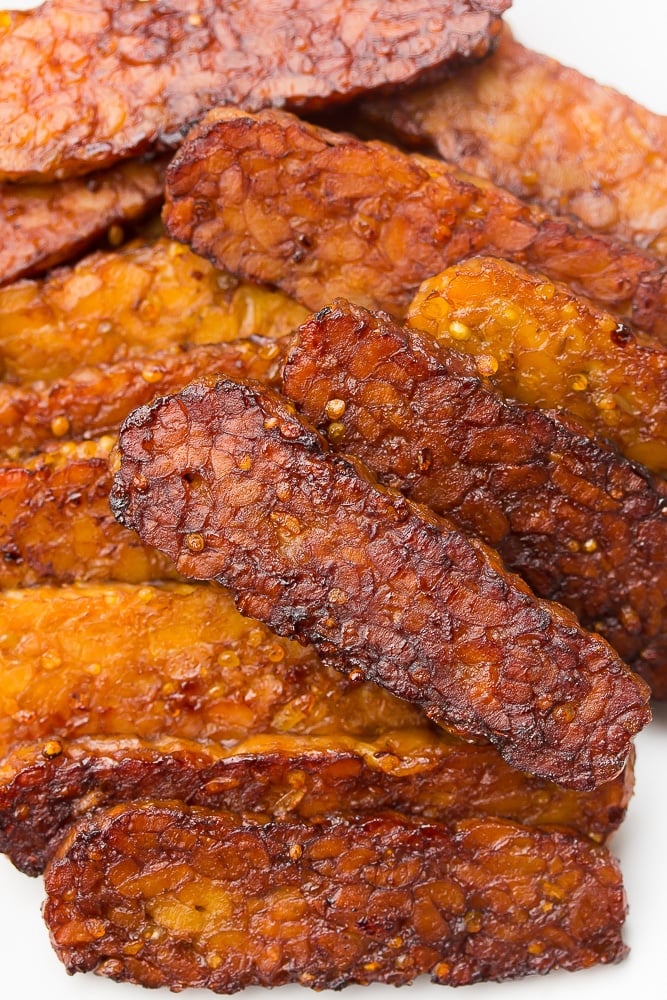 What is tempeh?
If you haven't cooked tempeh before, you are missing out! It's a wonderful vegetarian meat substitute that is made from fermented soybeans and often other grains as well. It has a meaty texture, is high in protein and can be sliced, crumbled or chopped.
It doesn't have much flavor on it's own, so it's perfect for marinating or cooking in a flavorful sauce. One of my favorite sandwiches ever is this BBQ Tempeh Sandwich.
My other favorite use of tempeh is for making bacon! We have Vegan BLT sandwiches about once a week because everyone is obsessed.
What is the marinade made of?
Soy sauce (I use low sodium soy sauce)
Apple cider vinegar
Pure maple syrup (just a little)
Cumin
& Liquid smoke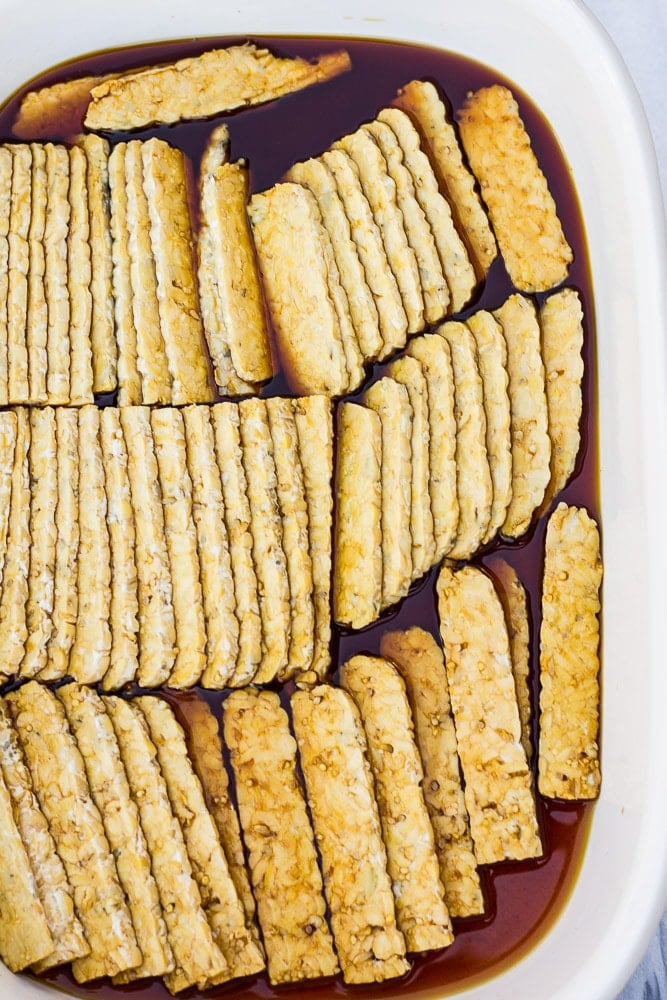 Bake or Pan Fry
I prefer pan frying the tempeh bacon in a little oil, but baking works just fine. Baked tempeh bacon is a bit crunchier, while fried tastes richer and a bit more like bacon.
Pan frying also takes less time (~15 minutes for all of them) while baking will take a bit longer (30 minutes).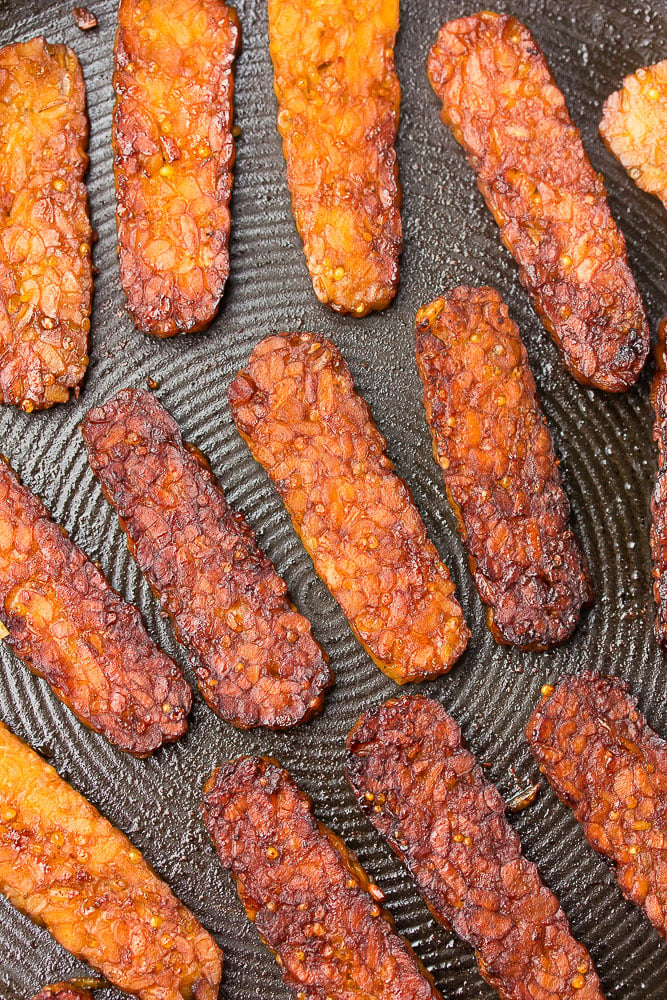 Tips for the best tempeh bacon
Marinate for at least an hour so the tempeh can absorb the flavors. Overnight is even better!
Slice the tempeh thin, not too thick (1/4 inch)
If pan frying, add a few tablespoons of leftover marinade at the end, to make it even more flavorful!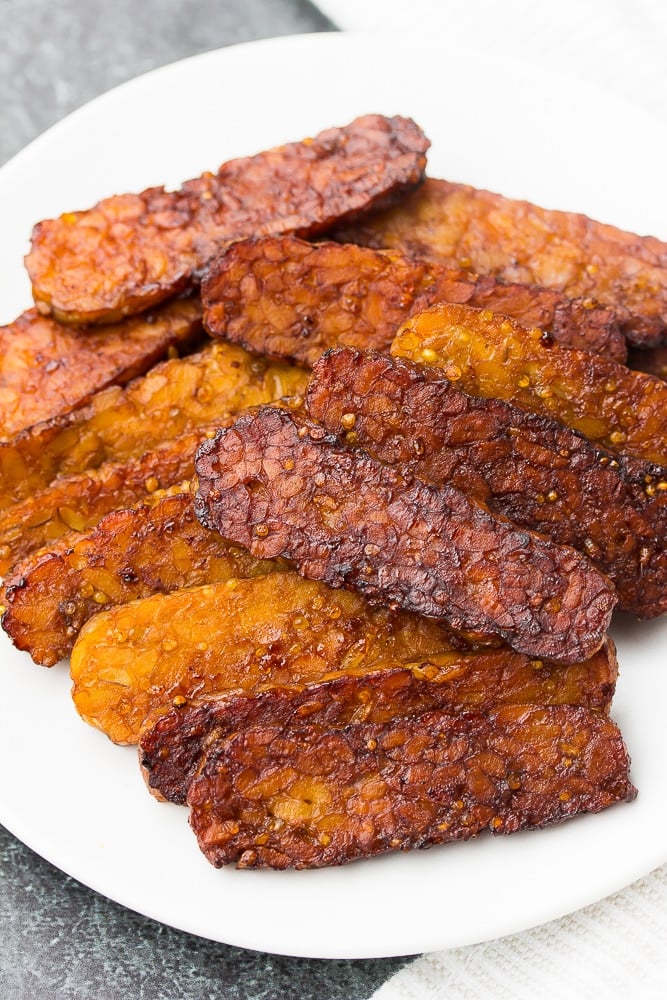 Tempeh Bacon
My favorite vegetarian bacon - Tempeh Bacon! Protein packed, ultra flavorful and easy to make. This vegan bacon is perfect for BLT sandwiches or brunch!
Prep Time: 5 mins
Cook Time: 30 mins
Marinating time: 1 hr
Total Time: 1 hr 35 mins
Servings: 8 servings
Instructions
Slice the tempeh into 1/4 inch slices.

To make the marinade, combine the soy sauce, apple cider vinegar, pure maple syrup, cumin and liquid smoke in a medium bowl. Whisk well to combine.

Place the tempeh strips in a 13 x 9 dish or other large, shallow container, and cover with the marinade. Make sure they are all coated well, and allow to marinate in the refrigerator for at least an hour or overnight.

To Bake: Preheat the oven to 350 degrees F and line a large baking sheet with parchment paper. Place the marinated tempeh strips onto the baking pan. Bake for 15 minutes. Flip and bake for 15 minutes more. Remove and serve.

To Pan Fry: Warm a few tablespoons of oil (olive, canola or avocado oil) in a large pan over medium heat. Add the tempeh in a single layer to the pan, and fry on each side for 3-4 minutes, until golden brown and crispy. For even more flavor, add a few tablespoons of the leftover marinade at the end and stir until coated. Remove, and continue frying until all the tempeh is cooked.

Serve in Vegan BLT sandwiches, as an addition to breakfast or brunch, or even as a snack! Enjoy.
Recipe Notes
Keep leftover tempeh bacon in a glass or plastic container in the refrigerator for 3-4 days. To reheat, either microwave or put in the oven on a pan for 10-15 minutes, until warmed and crispy. Or eat it cold, as I often do.
Gluten Free: Make sure to use gluten free tempeh, which I believe you can usually find at Whole Foods. Also use tamari instead of soy sauce.
Bake or fry? This is going to taste better pan fried, but it's also perfectly delicious baked! I do both regularly.
NUTRITION INFORMATION
Serving: 1serving Calories: 135kcal Carbohydrates: 10g Protein: 11g Fat: 6g Saturated Fat: 1g Sodium: 542mg Potassium: 284mg Fiber: 1g Sugar: 3g Calcium: 71mg Iron: 2mg
This recipe was originally posted in April 2018, and has been updated with new photos and writing November 2019.
source: https://www.noracooks.com/