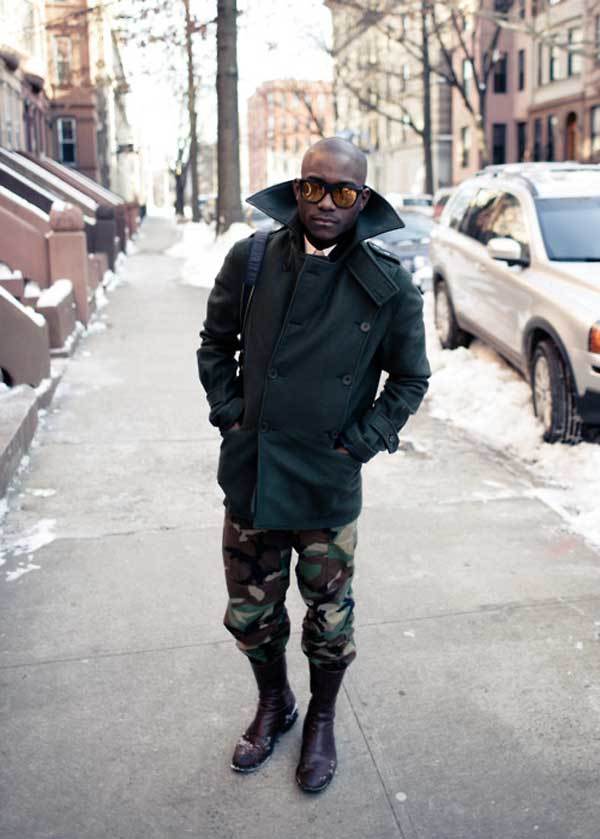 Traditional business attire for autumn. Remember to keep a parka on hand when fall arrives.
This outfit blends traditional fall colors with some very modern and trendy styles. Note the deep red tie, matching socks, and complementing checks in the shirt.
For the guy that doesn't mind investing a little extra time in his look this season, check out this ultra-stylish ensemble. A shearling jacket is worn over a thick, chunky-knit sweater, white turtleneck, and gray pants. Note the color scheme as well, as these are some very seasonal and appealing colors when combined. Interested in reading more? Check out Essential Men's Fashion Pieces for Both Business and Casual Wear.
Make a style statement with a white sweater and a matching bomber jacket. A modern fedora and embellished jeans bring this look to the next level. Here are some of the best Outfits with Bomber Jackets.
This is an edgy look that not many guys could pull off. Think you got what it takes? Give it a whirl!
Another off-beat look for the guy that loves to take risks in the fashion department. Let your popped collar do the talking with this one.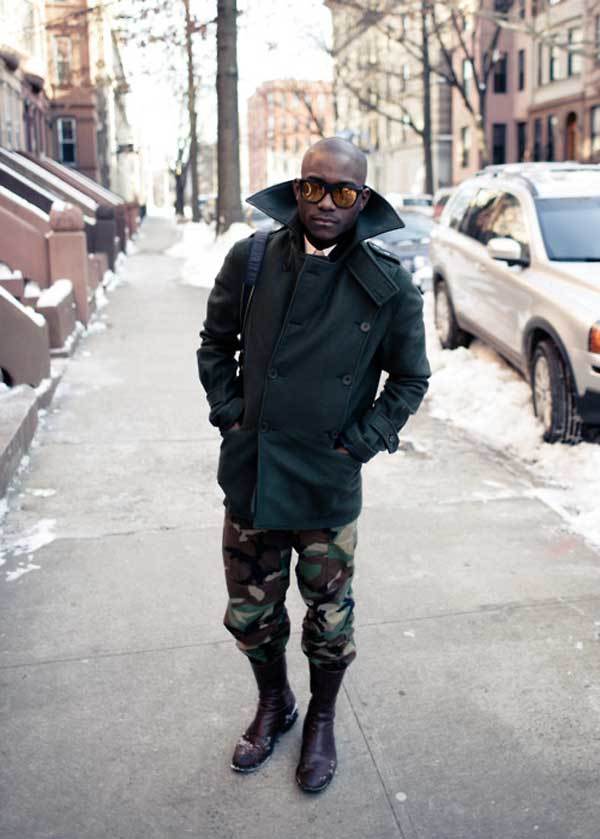 ↓ 27. Fall Fashion for Plus Size Men
You can't go wrong with a good puffer jacket. Pair with well-fitting trousers and a sweater vest for optimal style.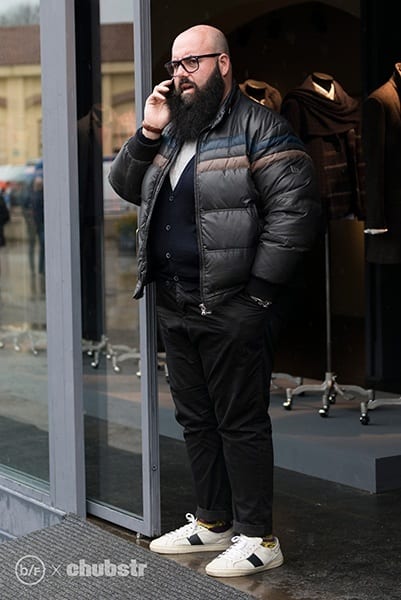 ↓ 26. Men's Casual Fall Fashion for Travelling
We love this simple but classic look that is understated without sacrificing style. It's all about the fit with these pieces so make sure each one fits to perfection. Also, have a look at these 18 Winter Travel Outfit Ideas For Men.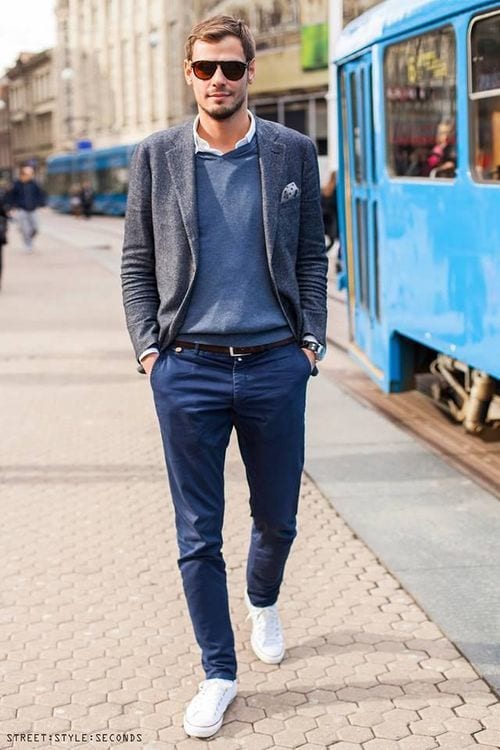 ↓ 25. College Guy Look
This is an incredibly stylish look for those cold autumn days. Great for college guys.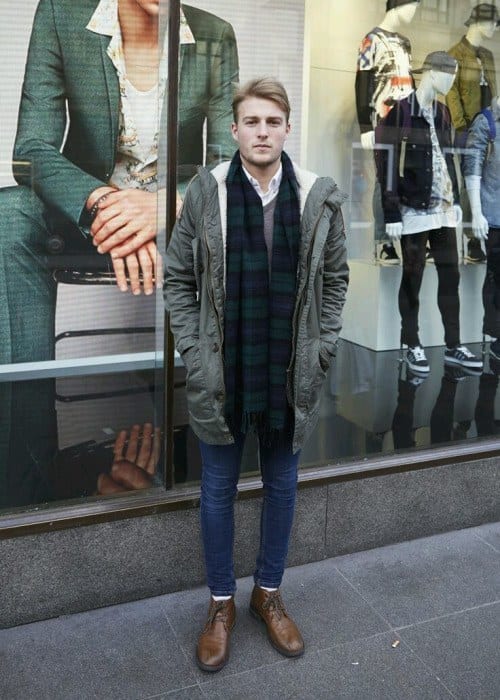 ↓ 24. Kanye West Inspired Outfit
Take a page from Kanye's book and go bold this season with a faux fur coat worn over a gray hoodie, well-fitting pants, and trendy sneaks.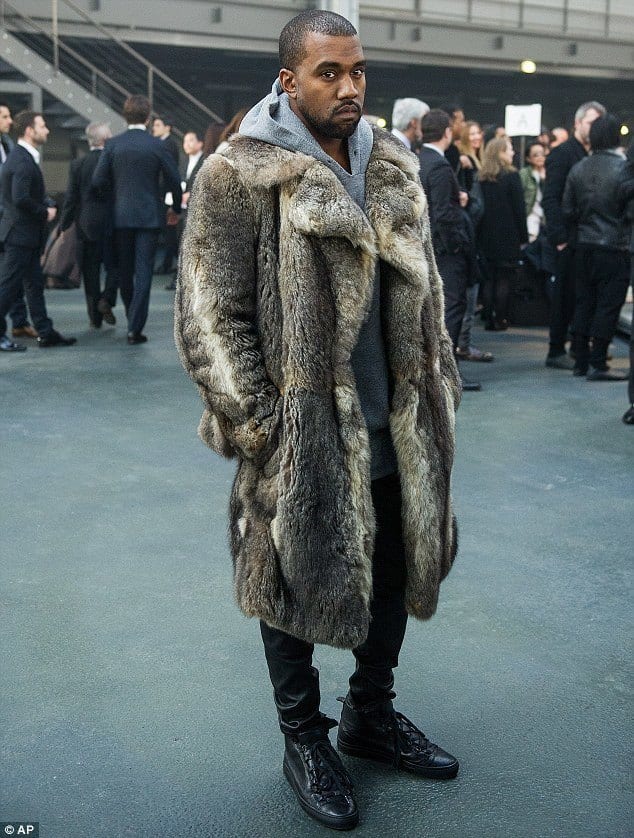 ↓ 23. Kanye West in Leather Jacket
Was the faux fur too much for you? Not a problem. Switch it out for an edgy leather jacket instead.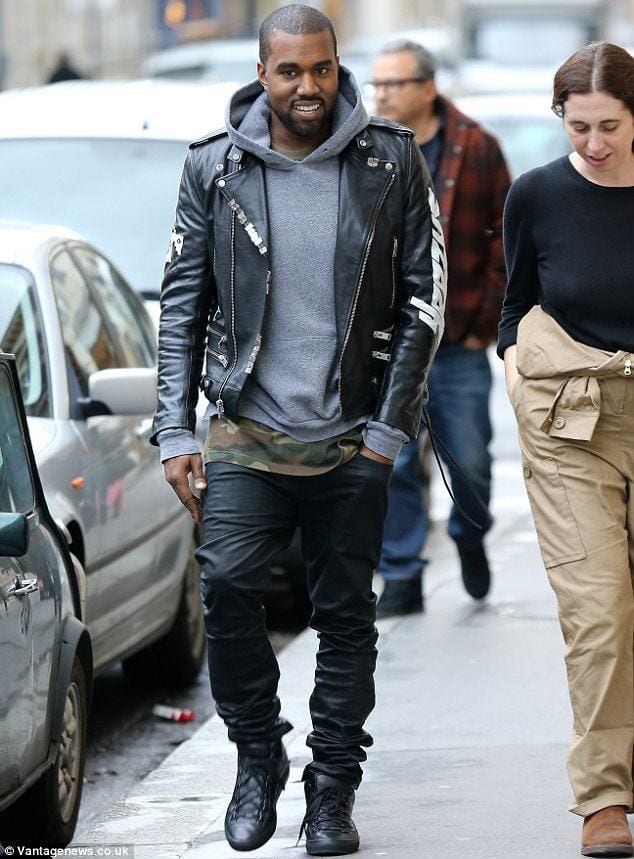 ↓ 22. Simple Fall Outfit for Guys
When in doubt, go simple. It's likely you have some of these pieces in your wardrobe at this very moment so why not give this look a try? All you need is your favorite jacket, a light blue sweater over a white tee, jeans, and some understated but classic dress shoes. This is a great look for grabbing lunch with your girlfriend, heading to class, or simply taking a walk around town.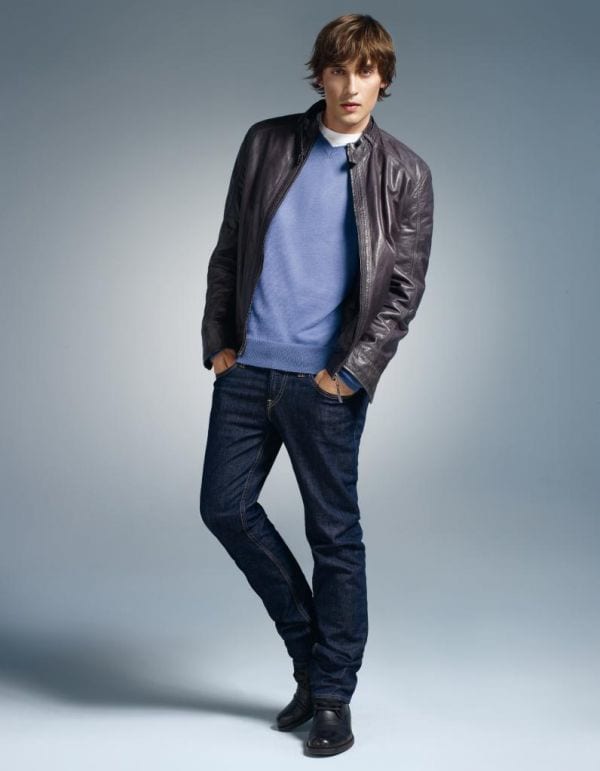 ↓ 21. Autumnal Inspired Business Attire
Go bold this season and mix and match some textures and prints, making sure you stay in an autumnal color scheme.
Don't miss out on Professional Facial Hairstyle for Businessmen.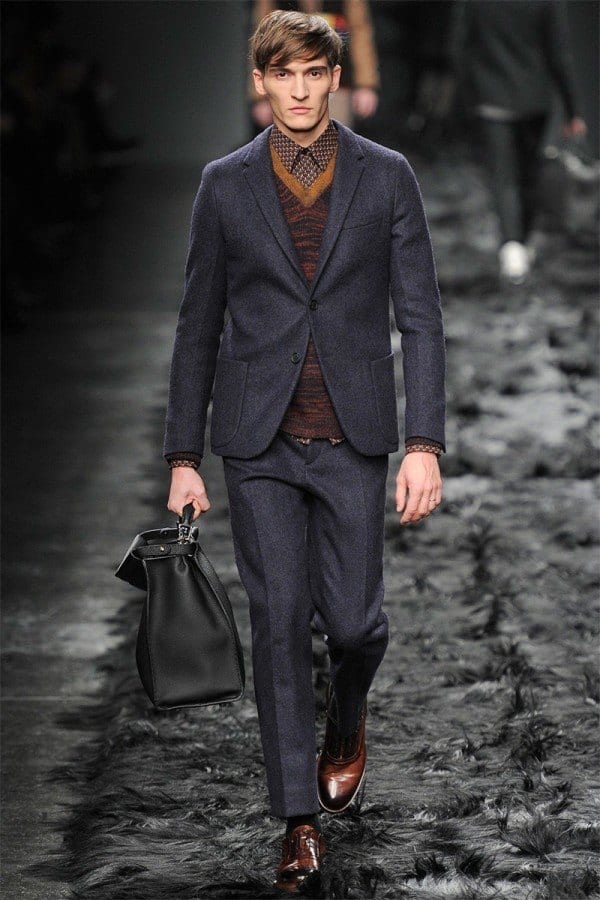 ↓ 20. Dressy Look for Formal Event
If you're sick of your same old suit jackets, give this outfit a try. This light gray suit is classy, and the turtleneck is perfect for the season.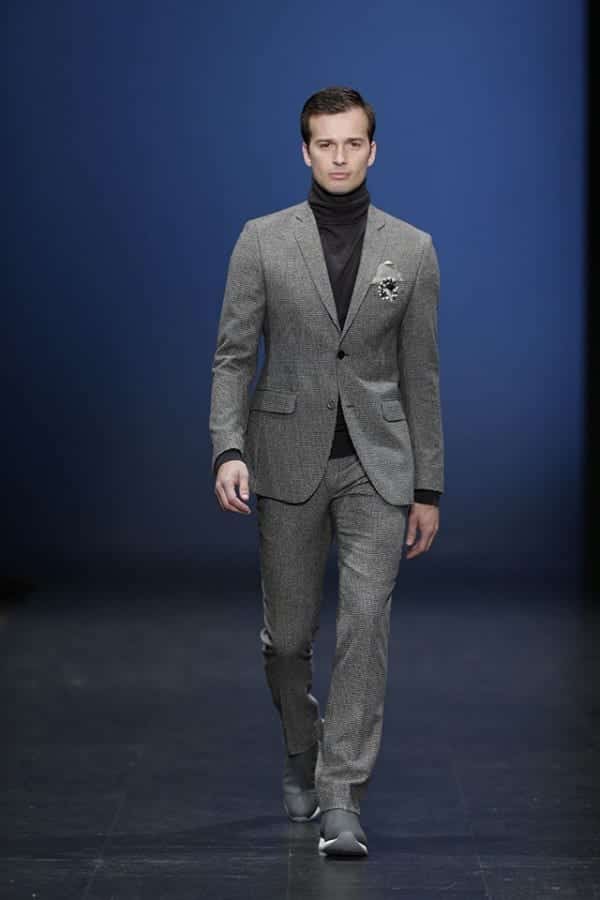 ↓ 19. How to Wear a Cardigan for Guys
Not sure how to pull off a cardigan in a manly way? Take a page from this guy's book. Opt for a darker colored sweater and keep your cuffs unrolled for a more rugged look. Check out our earlier post that discusses all the Different Ways to Wear Sweaters Fashionably this season.
↓ 18. Dapper Outfit for Warm Autumn Days
When your jeans fit to perfection, your confidence will certainly kick up a notch. Accessorize with some cool frames to really tie the look together.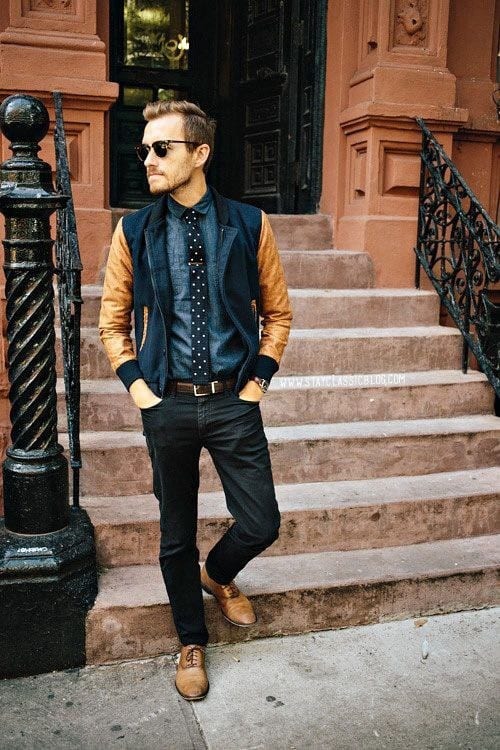 ↓ 17. Burgundy Pullover and Chino Pants
In all honesty, we love a classic look like this one. And if you're like most guys, you probably will, too. It's simple, it's masculine, and guess what? You could easily nab it yourself. Check out the outfit details below.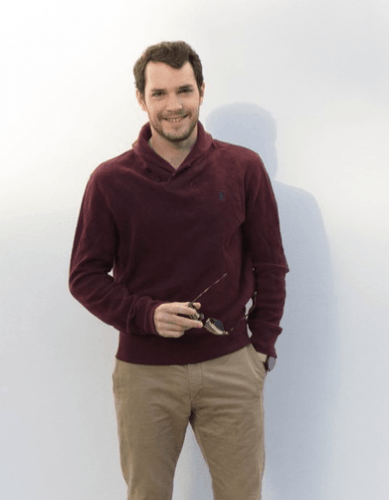 Outfit details:
↓ 16. Hipster Style for Guys
Prefer a more casual style? Throw on a beanie and a pullover with jeans and trendy footwear. Plus, check out these 25 Hairstyles for Hipster Men Look.

↓ 15. University Student Outfit
Rolled cuffs and a light gray coat make for a great combination. Slick back your hair and opt for all-white sneaks to bring the look home.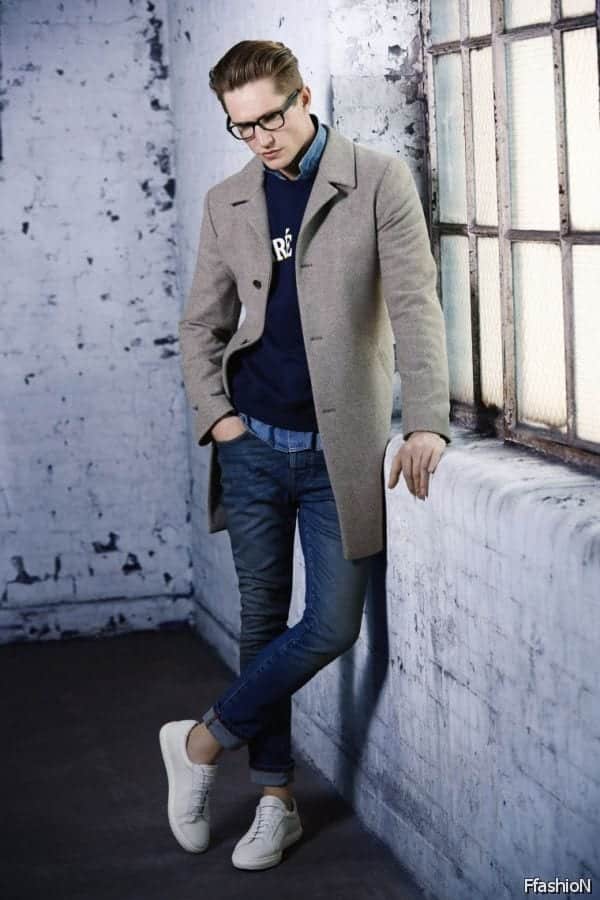 ↓ 14. Fedora Hat with Cropped Pants
If you love playing with textures and colors, this is the look for you. Have fun experimenting with sweaters, vests, trousers, and the tie of your choice!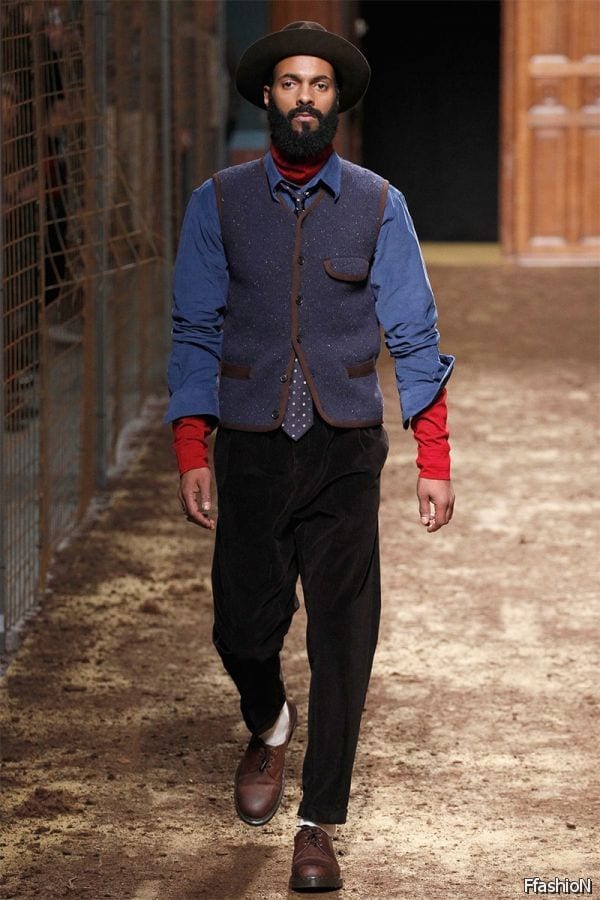 ↓ 13. European Fashion for Guys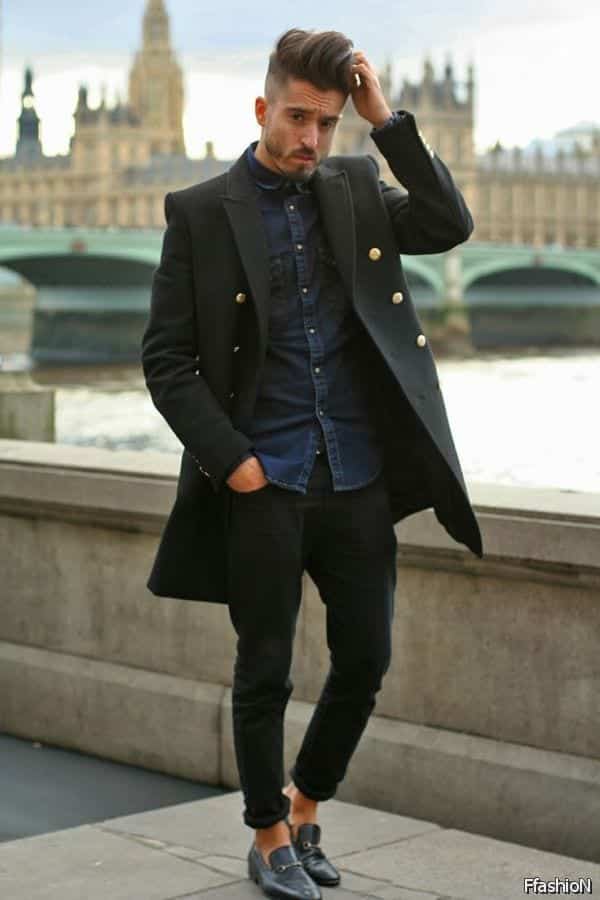 ↓ 12. Wearing a Scarf for Guys
A thick woolen scarf does not just make your outfit look much better, but it also wraps your neck up in its warmth, making sure that you enjoy your day. When buying a woolen scarf, make sure that you go for the best quality as a good one can last for years so don't compromise over its quality. There are several different ways to tie a scarf for men so take your time and experiment with different ways to find which one looks best on you. Have a look at our exclusive post on Guys Outfits with Scarves.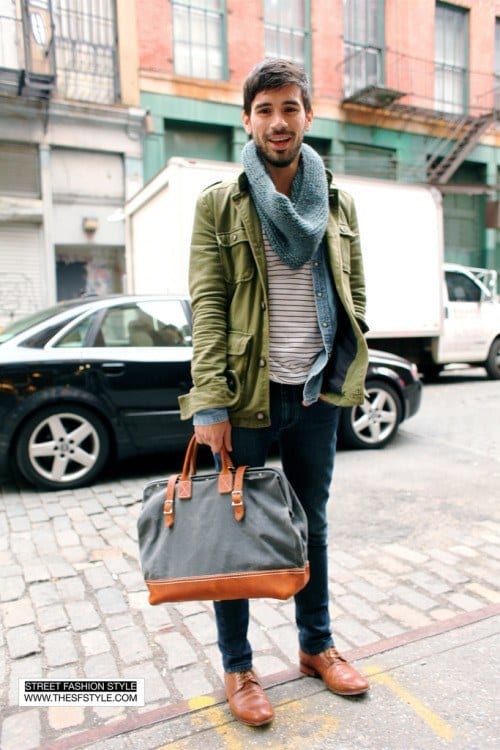 ↓ 11. Fall Camping Trip Outfit
No need to sacrifice style on your camping trip this season! Check out this fashion-forward look.
↓ 10. Semi-Formal Lunch Date Outfit for Guys
Here is another classic look that will have you looking like you have just stepped from a GQ magazine. Remember fit, and remember colors with this look.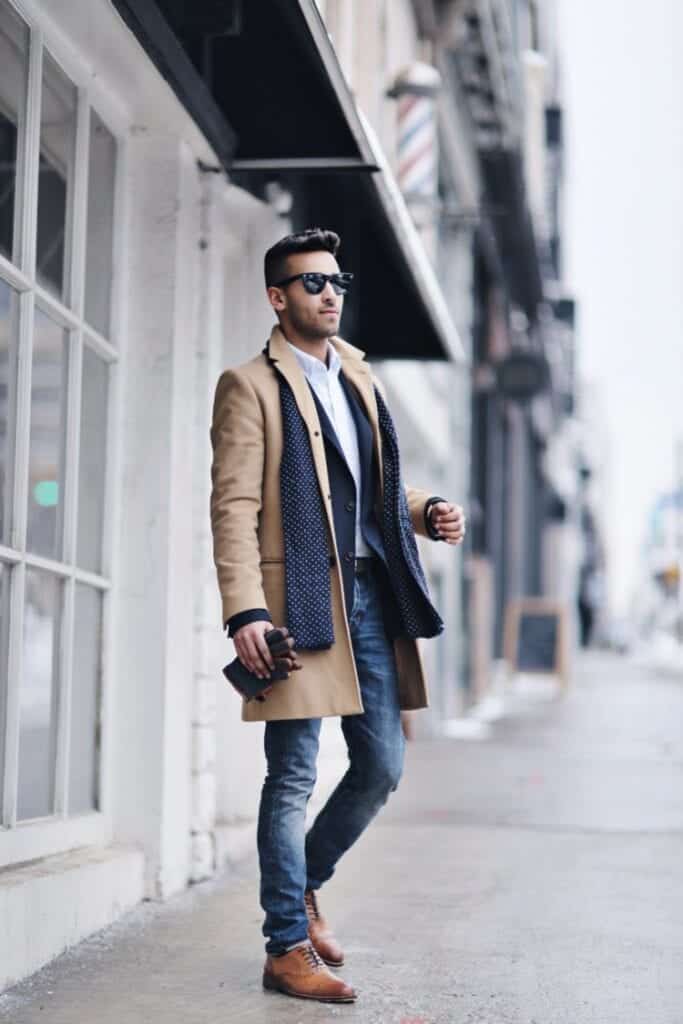 ↓ 9. Dapper Long Coat for Men
A camel coat is all you need for a dapper look. Plus, it can be paired with almost anything! Here are 20 Best Outfits To Wear Long Down Coat.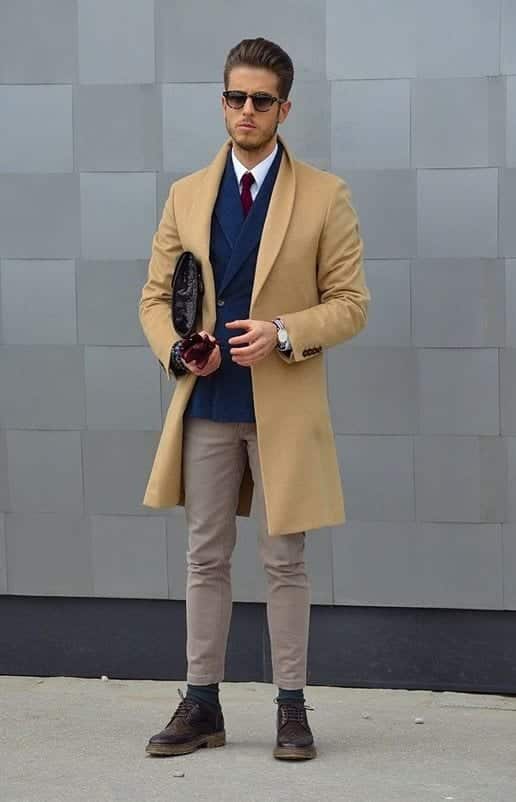 ↓ 8. Chunky Sweater and Matching Shoes
A daring look for the guy that likes takes his autumn fashion seriously. Check out those trousers and heavy-duty boots! Plus, you've got to admire that matching backpack.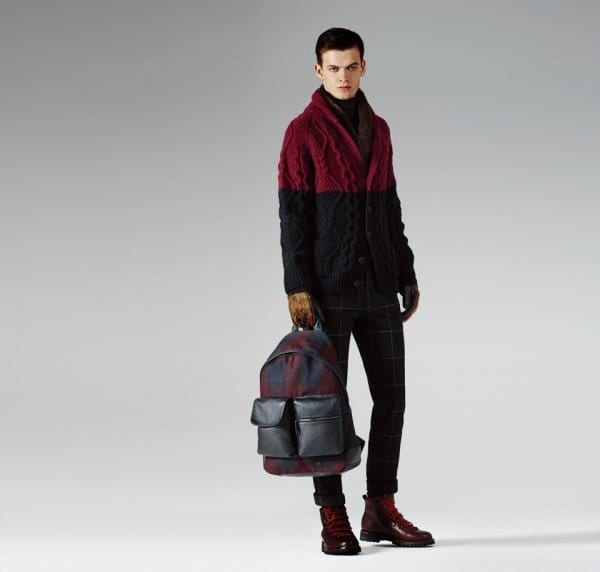 ↓ 7. Bright Colors and Cuffed Jeans
A pop of bright color is always pleasing to the eye during the dull fall season, and hot red is definitely the best choice in this case. Here are 30 Ways for Guys to Wear Red Pants.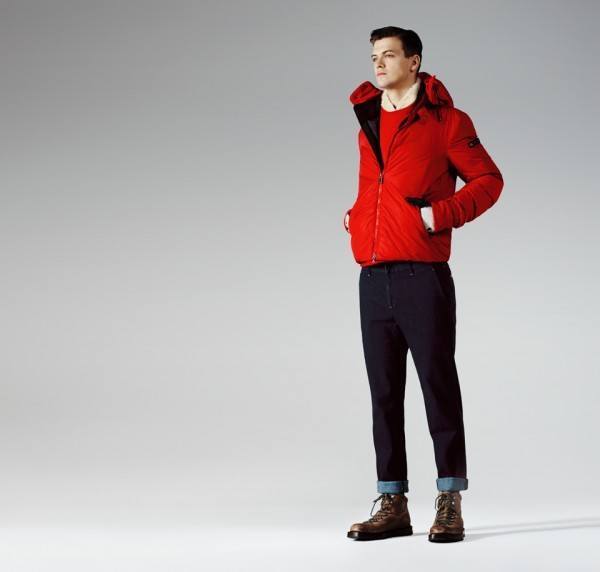 ↓ 6. Monochromatic Outfit for Guys
We love this dark and mysterious look. With an outfit like this, people will know you mean business!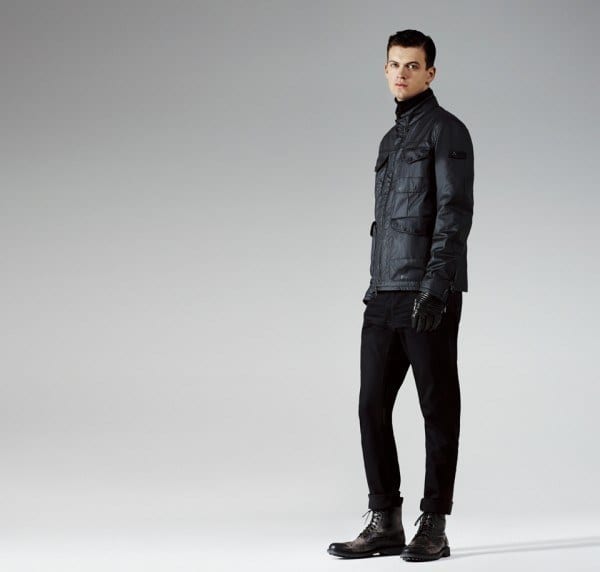 ↓ 5. Blended Jacket and Suede Boots
We love the effect of this combined jacket as well as these fashion-conscious boots. Add a white scarf for texture and warmth!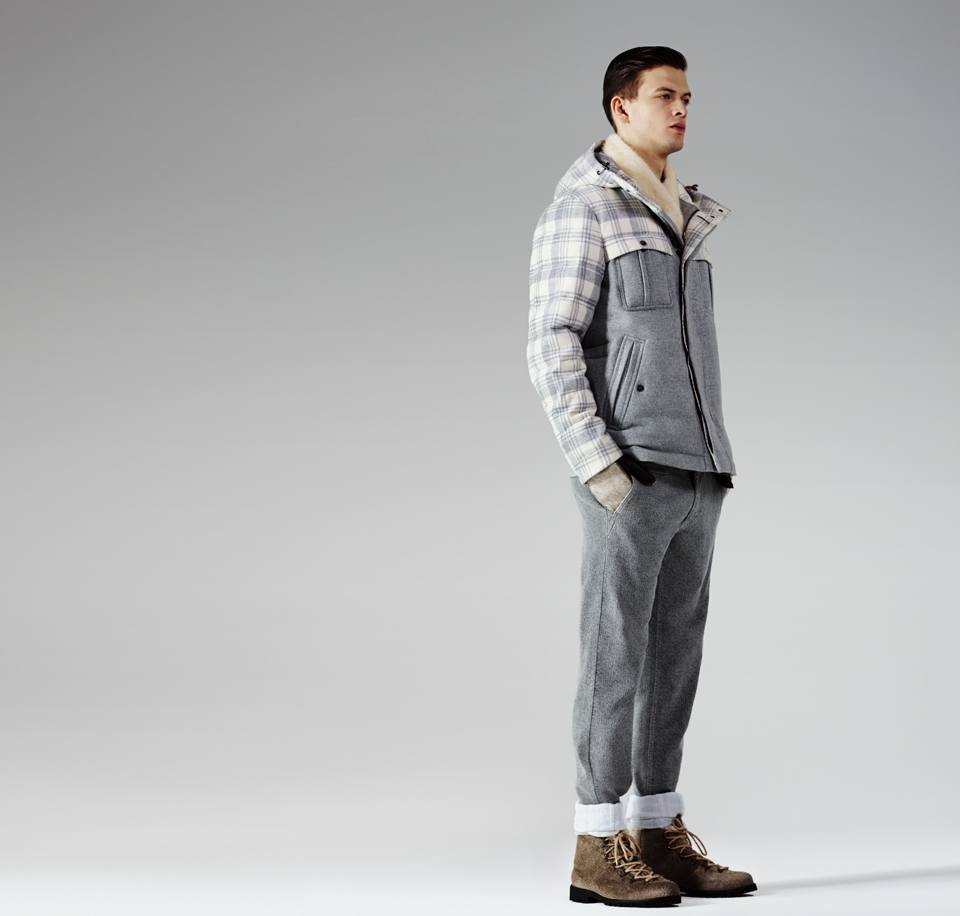 ↓ 4. What Colors to Wear in Fall for Men
Avoid overly bright greens, oranges, or yellows. Opt for subtle, duller shades like olive green or burnt orange. Think earthy as well, with browns, reds, and rust-colored clothing.
This outfit is a good example of the kinds of colors you should be leaning towards. Olive or forest green always pairs well with navy blue and brown.
You should also check out these 20 Ways to Wear Blue Suits with Brown Shoes.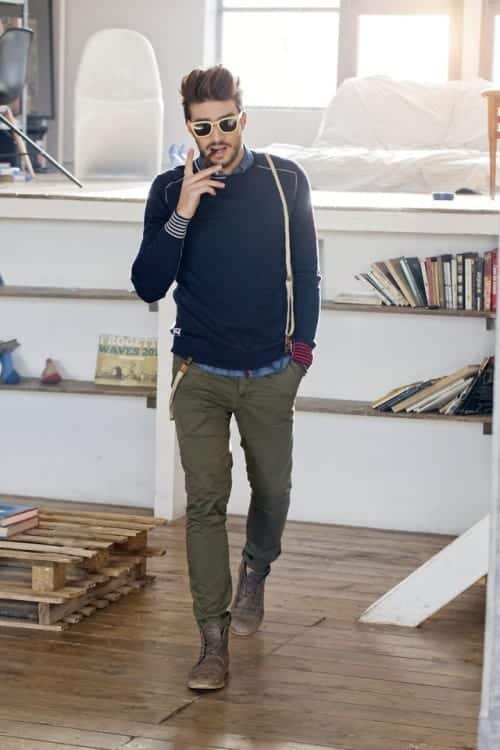 ↓ 3. Gray Tones for Fall
This is a gorgeous array of colors that look well when worn together. Gray color truly looks amazing in the fall palette and it's always a smart choice to mix different shades of grey.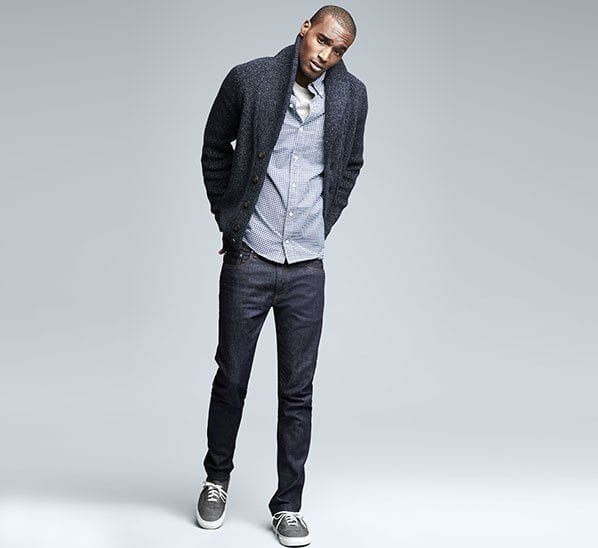 ↓ 2. Black Tie Dress Up with Shawl Neckline Coat
This year is all about statement sleeves and collars which is why we find this shawl neckline coat absolutely irresistible! Swap out the velvety blue jacket with a more autumnal-inspired color.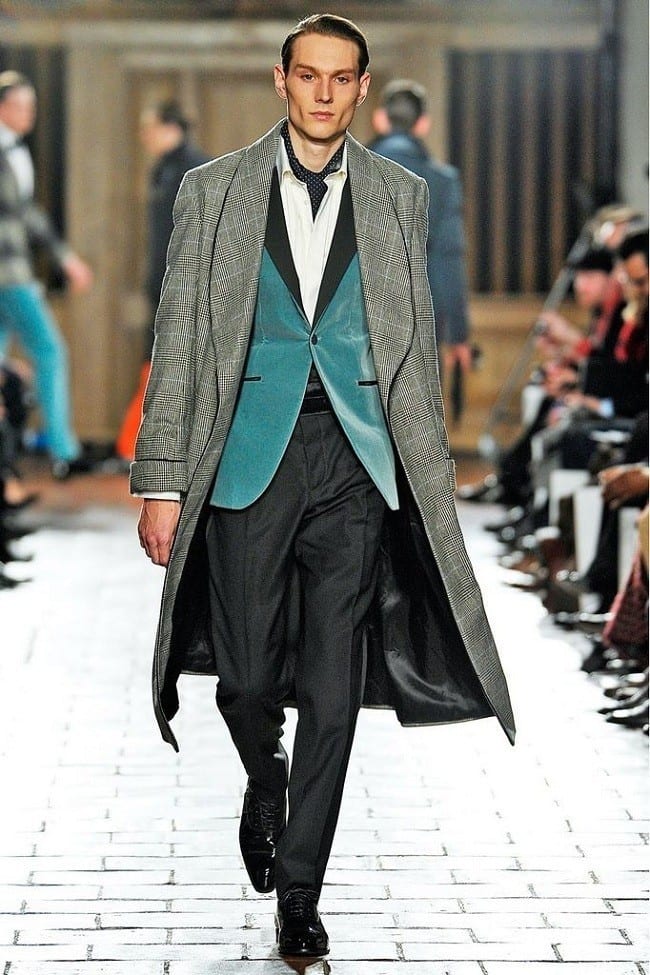 ↓ 1 – Shearling Jacket for Guys
A shearling jacket is surely one of the best fall pieces money can buy! You can easily layer under these jackets with shirts and sweaters. If you're thinking of buying a new shearling jacket, we would highly recommend a tan colored one for its awesome 70s vibes. The best shoes to wear with them would be loafers; you could also opt for some sturdy creeper shoes.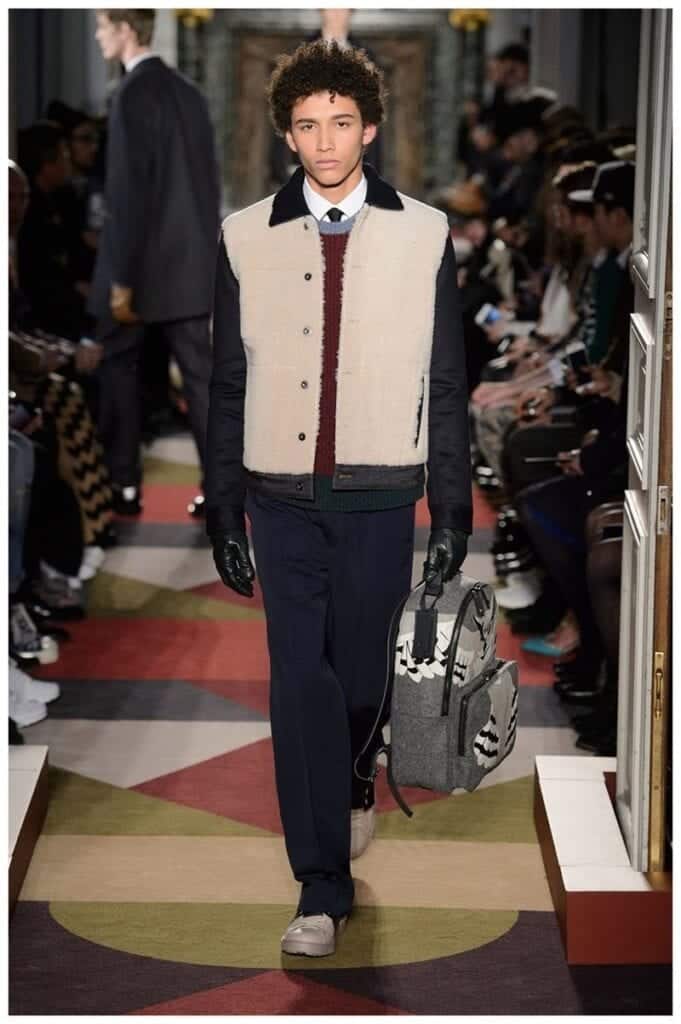 Source
Or add a touch of swag with these outfits: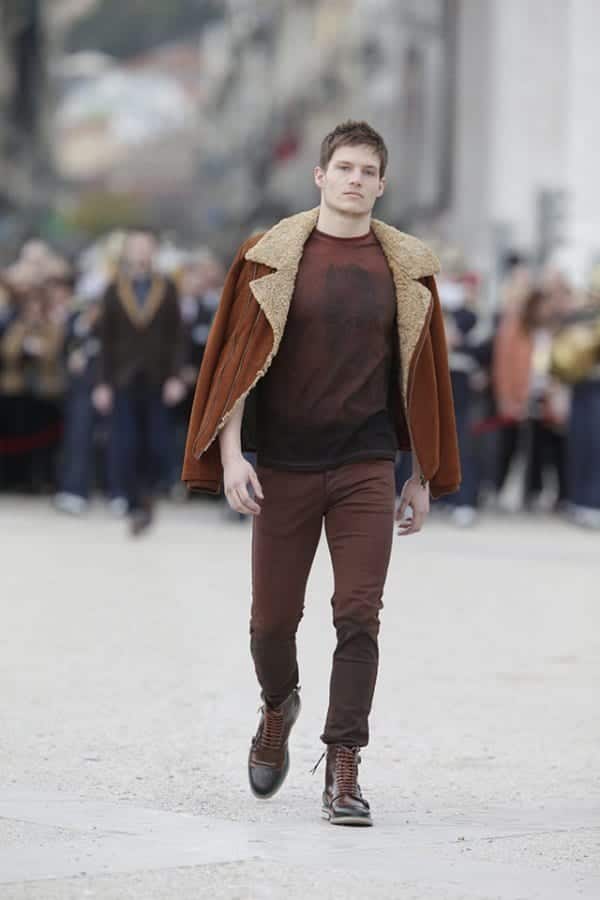 Source
Source